Introduction
Hey friends! With the release of the new Live Performance and Looping with Ableton Live course, we wanted to take a moment to address a silly notion that has been coming out of the EDM scene in the past couple of years and that's the notion that live performance is somehow "dead".

So, IS live performance actually DEAD? At this point in history, musicians have so many amazing tools at their fingertips to create incredible music in their homes, especially with BPM-based music. Producers spend hours and hours polishing and perfecting each sound to a hyperdetailed degree. In this type of music, so much emphasis is put on the sonic novelty of sounds that very little thought is given to how that music will actually be performed live on stage. Most musicians who create this kind of music will simply travel with a thumb drive of their tracks and plug into a DJ mixer and call it a day - the only real 'performance' aspect occurring in this situation is the transitions between tracks or how well you can keep the crowd's interest with your showmanship and energy on stage.
"Pressplayism"
As easy as it is to pick on these live performances where all the musician is really doing is tweaking knobs on muted tracks; that's not all we'd like to accomplish as electronic performers. On the one hand, it's great that we now live in an age where we can celebrate the compositions of musicians that have been perfected in their studios. In a certain sense, this modern workflow is almost like the return of the recording artist; which is a dream come true for so many musicians.
On the technology end of things, this style of live show has also pushed live sound and production companies to create insanely powerful and flexible speaker technology that can be worked into smaller venues and crowd applications. Speaker technology from companies such as Funktion 1, Hennessy Sound Design, and more have been made possible by responding to the ongoing needs of small-scale electronic artists.
There are lots of good reasons to defend the 'pressplayism' style of live performance. But as easy as it is to focus on sound design and composition as a musician; audiences attending live music venues may often find they're left wanting to experience more powerful, personal performances beyond an artist toggling mute buttons.
Even if the music that we're hearing is incredible and the sounds being generated are completely original and novel, it can feel as though something is missing. Audiences crave the spontaneity of where music can go in the moment, and the incredible interplay between the crowd and the performer - if the performer has 'live performance freedom'.
After seeing how uncommon it's become for an electronic artist to play instruments or tweak sounds live, you might make the assumption that live performance is somehow 'too hard' or not worth trying to accomplish on your own. At Seed to Stage, we have a mission statement to challenge this notion. It's our assertion that the lack of available information and training has led to so many artists simply defaulting to "pressplayism" and dramatic knob twists.
Live Music in the Attention Economy
So, why should you care about performing your Music Live? For starters, there has never been more new music coming onto the scene at once. We live in a time where the tools to make incredible music are easy and cheap to acquire, and the information on how to use those tools is easy to find. Competition in this space is extremely heavy and it feels like everyone is releasing awesome tracks all the time. The drawback to this musical golden age is that without the aid of a network of professionals or a giant promotional budget, it's likely your music will fail to break through the noise of the 60,000 songs releasing on streaming platforms every single day. It can seem pretty grim, but if you really think about it, there's a giant opportunity available to musicians who dare to perform their music live.
We live in a time when social video content is king. YouTube, Tick Tock, Instagram, Twitch, and other platforms have made it so the average onlooker rarely ever has to pay attention to anything that doesn't immediately intrigue or impress them. Take one look at the difference between amateur musicians who play beats on drum pads they live Loop or they play an instrument and it's easy to see how much more online attention these performers can muster. If you really want an advantage and you want to grow your audience; performing your music live in any way from simple knob twists and clip launching, all the way to live looping and live instrumentation -live performers these days have an extreme Edge on breaking through. This is why the "tiny desk" or "live from the van" style performance videos are all over the Internet - they simply work, and folks engage more with this kind of content.
Simply put, an engaging live performance grabs attention. And in the attention economy, those who take on the task of not only making amazing music but also performing it in real-time will be the folks who cut through the noise moving forward.
Take the smash success of live looping artists Marc Rebillet, Ed Sheeran, and Beardyman. Look at the millions of views attained by FKJ's videos or Floating Points epic KEXP performance = electronic or computer-assisted music can be performed live in extremely entertaining and engaging ways.
Emergent Competition
Also to add a perhaps unseen threat to this equation: there is an emerging and scary prospect of AI-generated music. What may seem like an incredible tool on the front end where AI or machine learning plugins and software are making music creation easier, the sneaking and scary part is that we're rapidly approaching an era where AI systems will be creating music instead of humans at a pace that we could never keep up with. Music that is functionally identical to human-made music - especially in the electronic or beat-based genres. If you thought it was hard to eke out a living as an in-studio musician before, imagine how much harder it would be to compete with automated music creation akin to what is happening in AI-generated art such as with mid-journey or Dall-E. The only way we could ever hope to compete with the coming changes in music technology is to learn to add a human element back to our music that other humans can connect with. This is where live performance comes in - as one thing AI could never do is be a human making music with their hands.
Live Performance is the Future
So, no, live performance is not "dead", in some ways it may be more alive than ever! In fact, we believe that musicians who are willing to explore the wide world of live performance will only see more and more opportunities open for them as the future unfolds. However you choose to meet this coming future, there is no better DAW to perform live with than Ableton Live. In an ocean of different DAWs, Live in particular software was designed from the ground up with the stated purpose of being used in a live setting. It's in the name!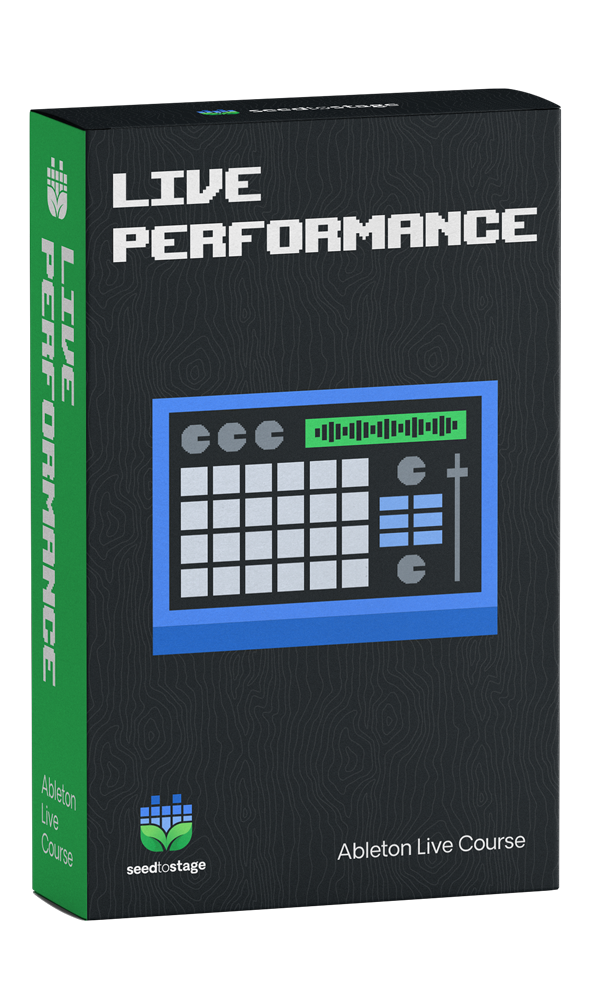 As concertgoers and enjoyers of live music, we are always seeking more when we go out to see a live performance. While there will always be a place for a person standing behind the DJ table with their fingers in the air, we would love to live in a world where more and more of those fingers are actually doing musical things and contributing to the live show. Above all else for the performer and the audience - a live performance is supposed to be fun. A great show keeps the audience engaged and the performer feeling passionate about the music they're performing. And while the initial process of learning these skills can feel scary, and there are a lot of different things that can go wrong in a live performance environment; proper training and show prep can mitigate and protect from missteps.
Seed to Stage has created the largest and most robust online course for taking any live performance style or idea that you might have and making it possible with Ableton Live. In this massive course, Anthony teaches everything that he has learned over two decades of touring with Ableton Live. From deep MIDI controller integrations, live looping, syncing to bandmates, live rig setups, live instrument effect processing, instant song and preset recall and so much more. The Live Performance and Live Looping course represents the culmination two decades of experience with Ableton-based stage performance. The course features over 15 hours (and growing!) of video lessons designed to upgrade your performances to amazing levels. Anyone looking to meet the future of live performance with the tools that you'll need to navigate it and have lots of fun in the process check out the Live Performance and Live Looping Course!